Back to Search Results
Ms. Salima Virani
, B.A. (Hons), LLB (Hons)
Name :

Salima Virani

Firm :

Blue Letter Law

Address :

2913 Lake Shore Blvd W.
Etobicoke
Toronto, Ontario M8V1J3
Canada


Phone :

(647) 748-4446
(416) 884-3555


Fax :

(647) 748-4449

Website

Geographical Limits :

Toronto, Etobicoke, Mississauga, Oakville, Greater Toronto Area (GTA)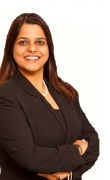 We are a full service form offering legal advice in the following core competency areas:

Business Law: Our practice includes advice on Incorporations, Shareholder Agreements, Purchase and Sale of Business, Franchise Agreements and various consulting and independent contractor agreements.

Family Law: We advise on domestic contracts including separation agreements, cohabitation agreements, marriage contracts. We also advise on matters relating to applications for divorce, custody, access and support.

Real Estate: We assist buyers and sellers of residential and commercial real estate whether new build or resale; We also assist on refinancings, private lending and commercial lease drafting and review.

Wills & Estate: Preparation of Wills & Powers of Attorney for Personal Care and Property; dual wills, multiple jurisdiction wills, family trusts and other estate planning mechanisms.
✔ Wheelchair Accessible Office
✔ Provides virtual services / accepts remote clients
My areas of practice:

Estate Planning

Guardianship

Living Wills

Power of Attorney

Probate

Trusts

Wills

Family Law

Child/Spousal Support

Custody/Access

Division of Property

Divorce/Separation
---
Testimonial
"Our justice system will be further strengthened with the introduction of the JusticeNet program, as it will serve to complement existing access to justice programs intended for people who do not qualify for legal aid."

The Hon. Rob Nicholson, Minister of Justice and Attorney General of Canada
---