Back to Search Results
Mr. Arthur Richard Alban Ayers
, BA; LL.B; B.C.L.
Name :

Arthur Ayers

Firm :

Arthur Ayers

Address :

200 Elgin Street
Suite 901A
Ottawa, Ontario K2P1L5
Canada


Phone :

(819) 598-1355


Fax :

(819) 205-7913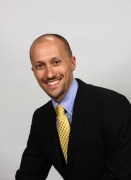 2015-16 RECIPIENT OF JUSTICE-NET AWARD OF EXCELLENCE IN ACCESS TO JUSTICE

My goal is to be a people's lawyer, providing truly accessible legal services to the average working person, and to individuals with modest to low incomes, including students, amateur athletes and clients wishing to immigrate to Canada.

I pride myself on a human and compassionate approach to lawyer-client relationships and truly believe that my unique sense of creativity stemming from the breadth of my personal and professional experiences before law provide equally creative solutions for my clients.

My practice is centred on dispute resolution and public law and I have represented clients in civil, criminal and immigration matters, before federal, provincial and administrative tribunals. I am trained in advocacy and alternative dispute resolution. I am also trained in both major world legal traditions, common law and civil law, and am able to provide services in English, French and Japanese.
✔ Provides virtual services / accepts remote clients
My areas of practice:

Civil Litigation

Immigration
---
Testimonial
"Our justice system will be further strengthened with the introduction of the JusticeNet program, as it will serve to complement existing access to justice programs intended for people who do not qualify for legal aid."

The Hon. Rob Nicholson, Minister of Justice and Attorney General of Canada
---