Back to Search Results
Mr. Raphael Samson
, B Comm, B.G.L., LL.B.
Name :

Raphael Samson

Firm :

Negi Samson LLP

Address :

15 Wertheim Court
Suite 208
Richmond Hill, Ontario L4B3H7
Canada


Phone :

(289) 597-0606
(647) 288-2059


Fax :

(289) 597-0909

Website

Geographical Limits :

York Region and Greater Toronto Area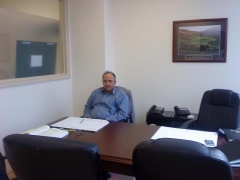 Raphael Samson Raphael Samson is a founding member of Negi Samson LLP. He obtained an LLB at the University of Bombay in 1988, B.G.L. (Bachelor of General Laws) in 1987 and B.Comm with specialization in accountancy in 1985.
Raphael is a member of the Law Society of Upper Canada. He is also a member of the Bar Council of Maharashtra (India) since 1989. He is practicing Real Estate, Civil Litigation, Estate Law and Corporate law.
✔ Wheelchair Accessible Office
✔ Provides virtual services / accepts remote clients
My areas of practice:

Business Law Topics

Banking / Finance

Collections

Contracts

Franchising/Licensing

Incorporations

Insurance

Partnership Agreements

Estate Planning

Living Wills

Power of Attorney

Probate

Trusts

Wills

Real Estate

Condominium Contracts

Construction Defects

Construction Liens

Landlord and Tenant

Mortgage Agreements

Municipal Law

Planning Issues

Neighbors

Taxes
---
Testimonial
"Our justice system will be further strengthened with the introduction of the JusticeNet program, as it will serve to complement existing access to justice programs intended for people who do not qualify for legal aid."

The Hon. Rob Nicholson, Minister of Justice and Attorney General of Canada
---