Back to Search Results
Mr. Matthew Guy Dupré
, B.A (Hon.) LL.B.
Name :

Matthew Dupré

Firm :

Matthew G. Dupré Lawyer

Address :

376 Richmond Street
London, Ontario N6A3C7
Canada


Phone :

(519) 672-4114
(226) 919-7685


Fax :

(519) 672-6583

Website

Geographical Limits :

London, St. Thomas, Strathroy, Lucan, Exeter and Woodstock, Ontario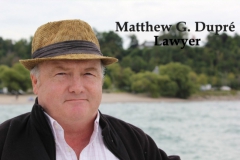 With over 30 years of private practice experience I offer diverse expertise in the areas of : Family Law ,Civil Litigation, Wills and Estates, Commercial Law, Real Estate Law, Employment Law, Construction Liens, and Insurance Law. I treat my clients with respect and humanity. It is a privilege to practise law in Ontario. I look forward to providing services in the Justice Net program. I offer an initial consultation for no charge. For clients who require wheelchair access I will meet with you at your home. Free parking is available for the convenience of my clients.
✔ Wheelchair Accessible Office
✔ Provides virtual services / accepts remote clients
My areas of practice:

Wills and Estate Planning

Guardianship

Living Wills

Power of Attorney

Probate

Trusts

Wills

Family Law

Child/Spousal Support

Custody/Access

Division of Property

Divorce/Separation
---
Testimonial
"Our justice system will be further strengthened with the introduction of the JusticeNet program, as it will serve to complement existing access to justice programs intended for people who do not qualify for legal aid."

The Hon. Rob Nicholson, Minister of Justice and Attorney General of Canada
---