Back to Search Results
Ms. Jessica Andrea Margeit Pineda
, J.D., B.Soc.Sc.
Name :

Jessica Pineda

Firm :

Margeit Pineda Law

Address :

460 W Hunt Club Road
Suite 209
Ottawa, Ontario K2E0B8
Canada


Phone :

(613) 282-4154


Fax :

(613) 482-4502

Website

Geographical Limits :

The greater Ottawa area.
Called to the Bar: Ontario, 2017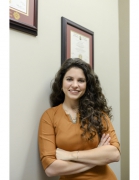 Margeit Pineda Law is dedicated to providing individuals in the Ottawa area with exceptional legal representation and services. We specialize in the areas of Family Law, Wills and Estates, and Immigration.

We are are always committed to our clients' best interests and providing our clients with exceptional services. As such, we strive to provide services based on our clients' individual needs and wishes in a timely and efficient manner.

Margeit Pineda Law was founded by Jessica Andrea Margeit Pineda in 2017. The firm focuses on providing high quality and personalized services to individuals.
✔ Wheelchair Accessible Office
✔ Provides virtual services / accepts remote clients
My areas of practice:

Estate Planning

Living Wills

Power of Attorney

Wills

Family Law

Immigration
---
Testimonial
"Our justice system will be further strengthened with the introduction of the JusticeNet program, as it will serve to complement existing access to justice programs intended for people who do not qualify for legal aid."

The Hon. Rob Nicholson, Minister of Justice and Attorney General of Canada
---