Back to Search Results
Mr. Thomas Ranco Su
, Juris Doctor
Name :

Thomas Su

Firm :

TRS Law

Address :

1595 16th Avenue
Suite 301
Richmond Hill, Ontario L4B3N9
Canada


Phone :

(905) 731-4125


Fax :

(289) 379-9793

Website

Geographical Limits :

Richmond Hill Markham Thornhill Vaughan GTA
Called to the Bar: Ontario, 2015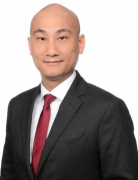 I am an experienced litigator who practices in the areas of Civil Litigation and Family Law. I speak Cantonese.

Civil Litigation Services:
- Defence of Uninsured Drivers
- Defence of Uninsured Contractors causing Property Damage
- Personal Injury
- Property Damage

Family Law Services:
- Divorce
- Custody and Access
- Child and Spousal Support
- Property Division
- Cohabitation Agreements, Marriage Agreements, and Separation Agreements

Before establishing my practice, I practiced law at a large Toronto litigation boutique and thereafter at a Bay Street firm. I have extensive experience with examining individuals in the court process and appearing before the Superior Court of Justice.

I am a firm believer in educating my clients on the law so that they may make informed decisions and actively participate in their matter. I pride myself on securing fair, just, and timely resolutions for my clients. Let me help you with your case and let me fight in your corner.
✔ Wheelchair Accessible Office
✔ Provides virtual services / accepts remote clients
My areas of practice:

Civil Litigation

Family Law

Child/Spousal Support

Custody/Access

Division of Property

Divorce/Separation

Personal Injury
---
Testimonial
"Our justice system will be further strengthened with the introduction of the JusticeNet program, as it will serve to complement existing access to justice programs intended for people who do not qualify for legal aid."

The Hon. Rob Nicholson, Minister of Justice and Attorney General of Canada
---