Back to Search Results
Ms. Ayesha Hussain
, LL.B
Name :

Ayesha Hussain

Firm :

HUSSAIN LAW

Address :

45 SHEPPARD AVENUE EAST
SUITE 900
Toronto, Ontario M2N5W9
Canada


Phone :

(647) 428-3919


Fax :

(647) 427-3926

Website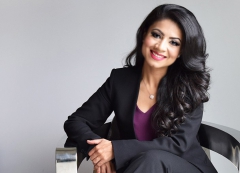 Ayesha Hussain is a respected member of the Ontario Bar. Her practice focuses on all matters related to family law, including divorce and separation, custody and access and division of family property. Ayesha represents clients at all levels of court in Ontario.

Family matters can be complex and overwhelming. Ayesha believes in being transparent and accessible to her clients, and takes great care to avoid unnecessary conflict and delay. Whether your case demands aggressive litigation or creative settlement efforts, Ayesha's focus will always be on what matters most to you.

Practice Areas include:
- Divorce;
- Common Law Spouses;
- Separation Agreements;
- Marriage and Cohabitation Contracts (a.k.a. Prenuptial Agreements);
- Spousal Support
- Child Support
- Access issues
- Motion to Change / Refraining Motion

UNDER COVID-19 MEETINGS OUR OFFICE IS OPEN AND WE CONTINUE TO ASSIT CLIENTS.
✔ Wheelchair Accessible Office
✔ Provides virtual services / accepts remote clients
My areas of practice:

Child Protection

Family Law

Child/Spousal Support

Custody/Access

Division of Property

Divorce/Separation
---
Testimonial
"Our justice system will be further strengthened with the introduction of the JusticeNet program, as it will serve to complement existing access to justice programs intended for people who do not qualify for legal aid."

The Hon. Rob Nicholson, Minister of Justice and Attorney General of Canada
---