Back to Search Results
Ms. Monica Bharadwaj
, J.D.
Name :

Monica Bharadwaj

Firm :

Law Office of Monica Bharadwaj

Address :

700 Bay Street
Suite 405
Toronto, Ontario M5G1Z6
Canada


Phone :

(416) 509-0061


Fax :

(416) 924-9973

Website

Geographical Limits :

The Greater Toronto Area including Halton, Brampton, Mississauga, all Toronto Courts, and Newmarket.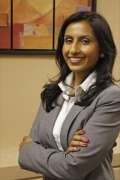 The Law Office of Monica Bharadwaj is committed to providing highly professional and efficacious service in an efficient and confidential manner. Our office provides clients with continuous updates on the status of their matters and is readily available by phone or electronic mail to address any questions or concerns.

Representing clients charges with all types of criminal and drug offences including domestic violence, assaults, sexual offences, drug offences, juvenile or young persons, thefts, frauds, weapons, immigration act charges and child protection cases involving Children's Aid.

Servicing many culturally diverse communities and can provide assistance in Punjabi and Vietnamese.
✔ Wheelchair Accessible Office
✔ Provides virtual services / accepts remote clients
My areas of practice:

Child Protection

Criminal Law

Domestic Violence

Drug Offences

Juvenile Offences

Fraud / Theft Offences

Immigration
---
Testimonial
"Our justice system will be further strengthened with the introduction of the JusticeNet program, as it will serve to complement existing access to justice programs intended for people who do not qualify for legal aid."

The Hon. Rob Nicholson, Minister of Justice and Attorney General of Canada
---