Back to Search Results
Ms. Amanda Erin Taerk
, BSW LLB
Name :

Amanda Taerk

Address :

243 Queen Street West
2nd Floor
Toronto, Ontario M5E1B3
Canada


Phone :

(416) 755-9910
(416) 388-5515


Website

Geographical Limits :

Toronto, Brampton, Mississauga, Oshawa, Scarborough, North York, and Newmarket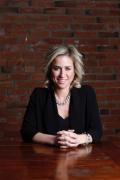 Divorce, family law issues, and child protection matters are highly emotional and stressful. I am dedicated to helping you get through the legal process efficiently. I am committed to giving each client the personalized attention they need. With 20 years' experience, I understand that your goals can change throughout the legal process so I adapt my representation as your objectives change.

As a former social worker, I possess a keen understanding that a child's best interest shall be the guiding principle in all high conflict custody and access disputes. I offer particularized services to clients from vulnerable populations such as young mothers, victims of domestic violence and individuals with mental health disorders.

I have handled hundreds of family law cases in Toronto and across the greater Toronto area and this has provided me with unique insights into how different judges approach litigation and trial. I can help you achieve a settlement that is right for you.
✔ Wheelchair Accessible Office
✔ Provides virtual services / accepts remote clients
My areas of practice:

Child Protection

Family Law

Child/Spousal Support

Custody/Access

Division of Property

Divorce/Separation
---
Testimonial
"Our justice system will be further strengthened with the introduction of the JusticeNet program, as it will serve to complement existing access to justice programs intended for people who do not qualify for legal aid."

The Hon. Rob Nicholson, Minister of Justice and Attorney General of Canada
---